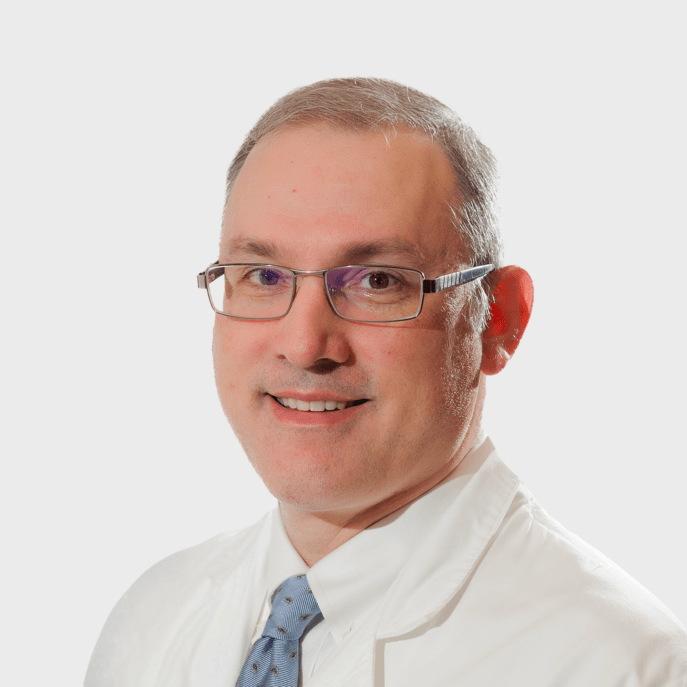 Alfred K. Hicks, DO
Clinical Interests
Traumatic Spine Injuries, Neck, Back, and Spine Surgery, Herniated Disk Treatment, Spinal Deformities, Spine Injections
Located In
Middletown, Marlborough, Westbrook
ql-locations, ql-background, ql-reviews
About
Alfred Hicks, DO, specializes in all aspects of non-surgical and surgical care of the adult and pediatric spine. His scope of surgical practice includes minimally invasive procedures, surgery on the cervical and lumbar spine including artificial disc replacement, spinal deformity including scoliosis, traumatic injuries of the spine, tumor and infection. He treats patients with neck and back pain as well as pain radiating down their arms or legs. He is known for carefully listening to each patient to determine the best treatment plan, almost always starting with conservative methods which may include physical therapy, medications or injections.
Dr. Hicks received his medical degree from Midwestern University in the greater Chicago area and completed his residency in Orthopedic surgery at Peninsula Hospital, a member of the LIJ Health system on Long Island, New York. He then went on to complete a fellowship in spinal surgery at the renowned Leatherman Spine Center in Louisville, Kentucky. At the Leatherman Spine Institute fellows practice with both neurosurgeons and orthopedic spine surgeons gaining well-rounded surgical and non-surgical experience.

After fellowship, he served as a Lieutenant Commander in the United States Navy. He was a staff Orthopaedic Surgeon at the Naval Hospital Camp LeJeune in Jacksonville, North Carolina. In 2010-2011 he served a tour of duty in South Helmand province at Bastion Hospital where he performed over 450 surgeries on victims of improvised explosive devices, gunshots and a wide variety of other injuries.
Dr. Hicks likes being in his woodshop, skiing, and hiking. He and his wife, Jeanette, have four children who enjoy travel and live music together.
Aetna
Commercial Plans (Except the Aetna Premier Care Network)
Managed Medicare
Anthem Blue Cross Blue Shield
Cards with the "PPO" inside the suitcase logo
Connecticut Medicare
Connecticut State Works Compensation
Cigna
Commercial CT, MetroNY
Cigna MetroNY
ConnectiCare
Commercial, including Exchange
Managed Medicare
EmblemHealth
GHI: CBP, National, Tristate; Bridge, Network Access, Medicare Choice PPO
HIP: Prime, Premium, Select Care, Bridge, Medicare VIP Prime/Bold
With Connecticare: HMO/PPO/POS and Medicare Choice / Passage
Oxford
Commercial Liberty and Freedom Plans
TriCare
United Healthcare
Commercial Charter, Choice, Core, Navigate, Nexus, PPO, Select and Doctors plan
Golden Rule
Managed Medicare
With multiple locations across the region, find the one that is most convenient for you.
Fellowship
Leatherman Spine Center
Spinal Surgery Fellowship
Medical School
Midwestern University, Chicago College of Osteopathic Medicine
Residency
Peninsula Hospital (LIJ Health System)
Orthopedic Surgery Residency
Graduate School
Georgetown University
Master of Science, Human Physiology and Biophysics
Internship
Midwestern University, Chicago College of Osteopathic Medicine
Traditional Rotating Internship
College
SUNY at Albany
Bachelor of Arts
State of Connecticut License, 2015 – Present
State of Kentucky Medical License, 2006 – Present
American Osteopathic Board of Orthopedic Surgery – Certificate Orthopedic Surgery 5/17 – 12/27
Memberships
American Osteopathic Association
American Osteopathic Association of Orthopedics
Lieutenant Commander, Medical Corps, United States Navy, 1999 – 2013
Deployed Orthopedic Surgeon – Camp Bastion Hospital, South Helmand, Afghanistan, Aug 2010 – April 2011
Orthopedic Surgical Department Clerkship, Bethesda Naval Hospital, Maryland, October 2002
Orthopedic Surgical Department Clerkship, Portsmouth Naval Hospital, Virginia, June 2002
Graduate of Officer Indoctrination School "with Distinction", Newport, RI, June 2000
Jacobs, N., Rourke, K., Rutherford, J., Hicks, A., Smith, S.R.C., Templeton, P., Adams, S.A., Jansen, J.O. "Lower limb injuries caused by improvised explosive devices: Proposed 'Bastion classification' and prospective validation." Injury. 2012. May 19.
Rourke, K., Hicks, A., Templeton, P.A. "The Camp Bastion Experience of Traumatic Limb Amputation." J Bone Joint Surg Br. 2012 94-B:(Supp XXXII) 29.
Pandya, A., Hicks, A., Coates, P., Jacobs, N., Hawker, J., "A Study of the Associated Incidence and Pattern of Upper Limb Trauma in Bilateral Lower Limb Amputations on Op Herrick – An Analysis of 221 Consecutive Cases." J Bone Joint Surg Br. 2012 94-B:(Supp XXXII) 23.
Grand Rounds Series, Bastion Hospital, South Helmand, Afghanistan – Bastion Hospital Amputation Protocol, March 2011
Research Project/Presentation, Shriner's Hospital for Children, Lexington, KY – The Results of Neurology Consultation in Idiopathic Toe Walking – June 2006
Orthopaedic Grand Rounds, University of Kentucky – Pediatric Spine Trauma, May 2006
Oleika Lecture Series, Shriner's Hospital for Children, Lexington, KY – Idiopathic Scoliosis, Congenital Tibial Pseudo Arthrosis, and Leg Length Discrepancy – April 2006
Orthopaedic Grand Rounds, North Shore Long Island Health System, NY – Orthopaedic Spine Management of Metastatic Breast Cancer, December 2005
Fay, M.J., Karathanasis, G.A., Leong, J.R., Hicks, A., Pherson, K. and Husain A. "Analysis of Cullin-5/VACM-1 mRNA expression in breast epithelial cells, breast cancer cell lines and both normal and tumor tissues." Invitro Cellular and Developmental Biology. 2002. Vol. 38, p. 14-A.
Husain, A. Hicks, A. and Fay, M.J. "Expression of vasopressin-activated calcium mobilizing receptor (VACM-1/Cullin-5) mRNA in human breast epithelial cells and breast cancer cell lines." The FASEB Journal, 2001. Vol. 15 (4), p. 123-124.
Research Assistant, Chicago College of Osteopathic Medicine – Explored Cullin-5/VACM-1 in cancerous breast cells versus normalbreast cells, 2000 – 2001
What Our Patients Say About Us