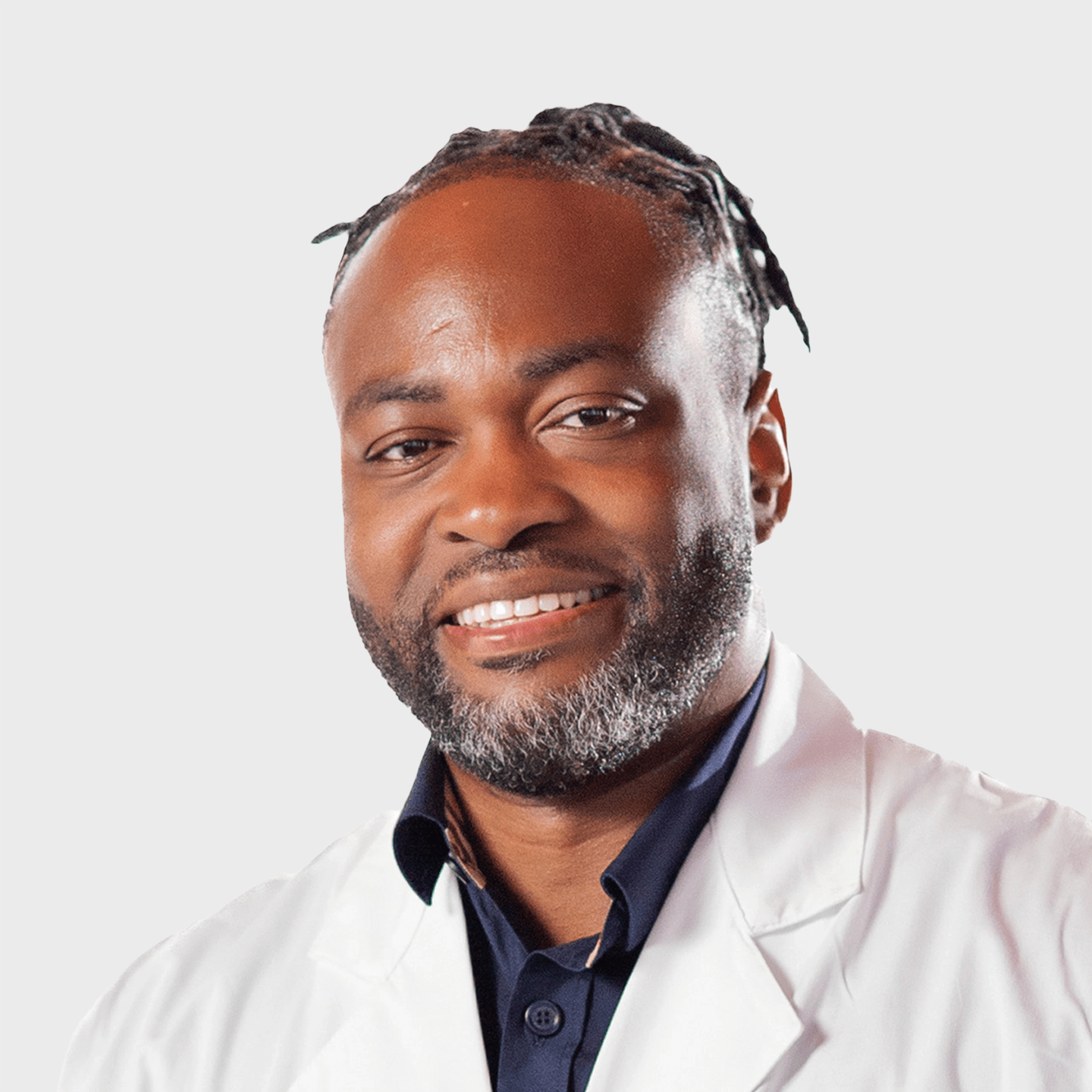 Adebola T. Adeleke, DPM, FACFAS
Clinical Interests
Foot and Ankle Trauma Surgery, Foot and Ankle Reconstruction, Achilles Rupture Repair, Tendon and Ligament Repair, Club Foot Surgery/Flat Foot Repair, Diabetic Wound Care
Located In
Middletown, Westbrook, Hebron, Marlborough
ql-locations, ql-background, ql-reviews
About
Dr. Adeleke D.P.M., FACFAS is a fellowship-trained podiatrist and foot and ankle surgeon. Dr. Adeleke treats the full spectrum of foot conditions both non-surgically and surgically including: plantar fasciitis, lower extremity tendonitis, sprains, ankle fractures, joint diseases, Achilles tendon ruptures, bunions, hammertoes, flat foot, high arches, club foot, pediatric care and diabetic foot care. Surgical treatment can include fracture surgical repair, bunion surgery, flat foot reconstruction, club foot reconstruction, surgical treatment of joint diseases/arthritis and surgery for Charcot foot.
Dr. Adeleke was born in London, Ontario to Nigerian immigrant parents. He was eventually raised in New Orleans, Louisiana, which he refers to as home. Dr. Adeleke earned his Bachelor of Science at the University of Jamestown where he also participated in collegiate basketball.
Dr. Adeleke is double Board Certified by the American Board of Foot and Ankle Surgeons and the American Board of Podiatric Medicine and Surgery. He received his podiatry medical training at Des Moines University and was subsequently accepted to one of the most prestigious residencies in the country; The Western Pennsylvania Hospital in Pittsburgh, Pennsylvania. Here Dr. Adeleke learned sound, innovative surgical techniques in the foot and ankle and became a peer-reviewed published author.
Following his years in Pittsburgh, Dr. Adeleke was awarded an extremely competitive fellowship position at The American Foundation of Lower Extremity Surgery & Research in Alamogordo, New Mexico. During fellowship training, Dr. Adeleke was exposed to a rigorous curriculum of foot, ankle & leg pathology with a focus on advanced foot & ankle surgery/reconstruction, arthroscopy, trauma, external fixation, and total joint replacement.
By taking the time to get to know each patient, Dr. Adeleke aims to understand their hobbies and lifestyles so he can individualize their medical care plan to match their personal goals.
In his spare time, Dr. Adeleke enjoys traveling, the arts including plays and movies, as well as staying active by exercising and playing basketball.
Aetna
Commercial Plans (Except the Aetna Premier Care Network)
Managed Medicare
Anthem Blue Cross Blue Shield
Cards with the "PPO" inside the suitcase logo
Connecticut Medicare
Connecticut State Works Compensation
Cigna
Commercial CT, MetroNY
Cigna MetroNY
ConnectiCare
Commercial, including Exchange
Managed Medicare
EmblemHealth
GHI: CBP, National, Tristate; Bridge, Network Access, Medicare Choice PPO
HIP: Prime, Premium, Select Care, Bridge, Medicare VIP Prime/Bold
With Connecticare: HMO/PPO/POS and Medicare Choice / Passage
Oxford
Commercial Liberty and Freedom Plans
TriCare
United Healthcare
Commercial Charter, Choice, Core, Navigate, Nexus, PPO, Select and Doctors plan
Golden Rule
Managed Medicare
With multiple locations across the region, find the one that is most convenient for you.
Fellowship
The American Foundation of Lower Extremity Surgery & Research
Medical School
Des Moines University
Residency
The Western Pennsylvania Hospital
College
University of Jamestown
Certified by the American Board of Podiatric Medicine and Surgery, 2021
Certified by the American Board of Foot and Ankle Surgeons (ABFAS), 2022
State of Connecticut – Advanced Ankle Surgery (2016 to present)
State of New Mexico
State of Pennsylvania
Board Certified in Podiatry
Board Certified in Foot and Ankle Surgery
Scott Alter Memorial Lecture Series Pittsburgh, PA, 2012 – present
Basic Arthroscopic Course Pittsburgh, PA, 2012
AO Basic Pittsburgh, PA, 2013
AO Advanced Lower Extremity Course Pittsburgh, PA, 2014
ACFAS Annual Conference, 2013 – present
Advanced Arthroscopic Course, 2015
Advanced Principles of External Fixation, 2015
Memberships
American College of Foot and Ankle Surgeons
American Podiatric Medical Association
Connecticut Podiatric Medical Association
Hospital Affiliations
Middlesex Hospital, Middletown, CT
Middlesex Center for Advanced Orthopedic Surgery, Middletown, CT
Midstate Medical Center, Meridien, CT
St. Francis Hospital – Trinity Health of New England
Keys to Optimal Selection of Orthobiologics, Catanzariti A, Mendicino R, Adeleke A, Baca J, Richardson P, Dix B, Podiatry Today, September 13, 2013
Double Arthrodesis Through a Medial Approach for End-Stage Adult – Acquired Flatfoot, Catanzariti A, Adeleke A, Clinics in Podiatric Medicine and Surgery, July 2014
Surgical Treatment of Peroneus Brevis Tendon Repair With and Without Human Amniotic Allograft: A Comparison Study, Manuscript presentation at 2016 ACFAS National Conference, Austin, TX
Absorbable Suture as a Preferred Option for Lateral Ankle Instability Repair, Manuscript presentation at 2016 ACFAS National Conference, Austin, TX
Popliteal Artery Entrapment Syndrome: A Case Report, Poster presentation 2013 ACFAS National Scientific Conference, Las Vegas, NV
Ankle Arthrodesis: A Radiographic / Retrospective Review, Poster presentation 2014 ACFAS National Scientific Conference, Orlando, FL
Use of Mesenchymal Stem Cell Allograft in High – Risk / Revisional Foot and Ankle Surgery, Poster presentation 2014 ACFAS National Scientific Conference, Orlando, FL
Anterior Plating Approach for Ankle Arthrodesis, Poster presentation 2015 ACFAS National Scientific Conference, Phoenix, AZ
The Ankle Stirrup Splint for Post – Operative Immobilization, Poster presentation 2016 ACFAS National Scientific Conference, Austin, TX
Contemporary Approaches to Ankle Arthrodesis, NMPMA State Meeting Lecture
Medial Double vs. Triple Arthrodesis for Surgical Correction of Late to End-Stage Posterior Tibial Tendon Dysfunction, NMPMA State Meeting Lecture
Spinal Cord Stimulation for Treatment of Complex Regional Pain Syndrome, St. Francis Hospital, Hartford, CT
Arterio – venous Malformations, Long Island Jewish Medical Center, New Hyde Park, NY
What Our Patients Say About Us